Avivage Massage offers a variety of gift cards you can purchase online. We also have gift cards available at our studio.
To purchase gift cards online:
Click the button below. Use the pull down menu on the next page to choose a custom gift card (you'll be able to enter a dollar amount), or choose a gift card for a specific massage.
You can email the digital gift certificate directly to recipient or enter your own email as the recipient and you will receive digital gift card. You can also choose a delivery date to send the gift card in the future instead of right away.
You will be able to print the digital gift card once your transaction is complete.
You will receive an email copy of the digital gift card.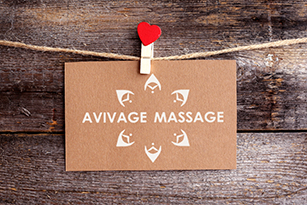 Give the gift of an Avivage massage.
Note: Gift cards are non-refundable and can not be redeemed on Feb. 12th, 13th, 14th, 19th & 20th 2022. Additional black out dates may apply.